Writing content that is already published on the internet before is not considered authentic. It is a crime to plagiarise content and publish it under our name. Plagiarism is banned in many schools and institutions, but still, people use duplicate content and submit their work.
What is Plagiarism?
Plagiarism can be explained as copying other people's content or stealing someone else's ideas and publishing under our own name. It is an offensive crime, and people using plagiarised content on their websites or assignments can be in danger if they are caught. It is a type of academic dishonesty that doesn't just happen in school. There are many cases where people have plagiarized other artists' work, novels, or articles without citing their sources properly. Thankfully, there are tools to make sure every original idea is credited where it's due.
Plagiarism is a serious issue that is a growing concern for both students and educators. Plagiarism takes many forms, from copying someone else's work to paraphrasing their words. The worst form of plagiarism is submitting the work of others as your own.
In the past, there were not many websites where people could do marketing about their businesses. Therefore, there were very few websites on the internet. But now the times have changed, and almost everyone is going for a web portal where they can do marketing about their brand and products/services.
In this case, the competition amongst people has increased, and you will find multiple types of websites under one type of product or service. Therefore people try to use other people's ideas over content and design to make their website stand out from the crowd.
However, this does not help search engines to recognize your brand from a sea of different types of websites. To get your website on the top, you will need to have unique and fresh content that is not present anywhere else on the internet.
Sometimes, it happens that our work is similar to many other brands, but it is up to the owner how he/she wants to portray their brand among the audience to make it outstanding and unique.
Why is it Important to Check Plagiarism in Your Content?
Plagiarism is important for your website because it affects your business and identity. If you are a freelance writer or a blogger and write content for different clients, and if you get caught with plagiarized content, your career will be ruined in minutes. Writing plagiarized content can finish your career and ruin your identity completely as you will be labeled as a thief, and there is a chance of losing the best clients in the future.
Sometimes, while writing, we don't realize that we are using sentences that may have been used elsewhere because you never know if the ideas you are using are already used somewhere, and your content can have a chance of duplication. Here you can be in danger but to avoid such circumstances, duplicate checker or plagiarism checker websites and tools are available online that find duplication in your content in minutes.
A lot of content can be created in a short amount of time. With the increased use of social networks and blogs, it is not uncommon for a business to produce a lot of content on a regular basis. The problem with this is that there may be some overlap in what is being published, which can make it difficult for customers to find unique content. In order to solve this problem, content similarity detection was invented. It helps you find duplicate content by analyzing the subject matter and style to determine whether or not they are similar.
Content similarity detection is an important technique for plagiarism detection. It effectively identifies the plagiarized content of multiple documents, providing a list of phrases that are similar to each other. Content similarity detection is research in the computational linguistics field that advances the state-of-the-art for automatic recognition of plagiarism, close paraphrasing, and near duplication.
What is a Plagiarism Checker Tool?
Plagiarism checkers are programs that scan your content for any copied, unoriginal, or even paraphrased content. A plagiarism checker works by scanning your writing and comparing it with the sources you've used. It then creates a report detailing the parts you borrowed from other writers and estimates its level of uniqueness (i.e., how much it differs from the original). Afterward, you can decide how to proceed: either correct these parts or add citations to them to protect yourself from accusations of plagiarism.
Plagiarism checkers scan a paper or essay against a database of published content and identify matches. However, this tool is not perfect, nor is it foolproof. The limitations of some plagiarism tools are:
It's not always easy to know if a website is trustworthy or has an accurate plagiarism checker. The tools also aren't always capable of finding every instance of plagiarism. For example, they might miss some paraphrases that are similar to others in your content.
It's also not always easy to detect plagiarism, especially if the source text is hidden in quotations or paraphrased in your own words.
Still, plagiarism checkers are absolutely worth the investment. You should use these to make sure that your work is original and to avoid possible punishments if you were to be caught plagiarizing. It eliminates major plagiarism issues from your content and reduces the consequences of getting caught with a high level of plagiarized content.
A well-designed plagiarism checker should have these features:
It can be used for any type of content – essays, articles, lab reports, etc.
It offers many options to choose from so you can find the best one for your needs.
Quick scanning process – The faster the scanning process, the more time you'll save!
Ability to detect multiple languages – Some papers may contain text in other languages besides English.
In this article, we will talk about one of the best plagiarism checker tools that are best to use in 2021 for all types of webmasters and content writers.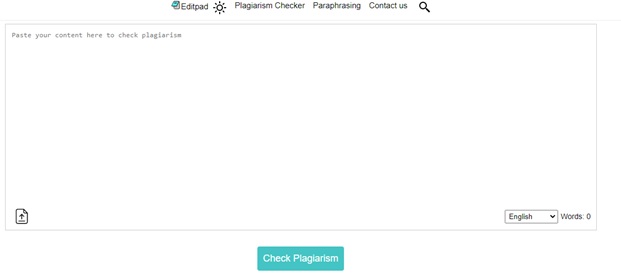 Students and researchers who need an easy-to-use plagiarism checking tool can get their hands on this plagiarism checker, where you will get a paraphrasing tool for creating your unique content and a plagiarism checker to detect duplication in your content.
Edit pad is one of the most used tools that works amazingly and provides results in just a few seconds. At times we need instant results to get away with the pending workload. In such times this tool will help you paraphrase content to make it fresh and original that is not plagiarized, and you will also be able to check its authenticity.
This online plagiarism checker is not only user-friendly but is also available for free on the internet and does not require any kind of subscription or additional details. You just need to copy-paste the text that you need to check, or you can also download files from your documents that need to be checked. Within seconds the results will be shown on your screen in the form of percentages, and you will be free to submit them online.
The word limit of checking your document is a thousand words, and it scans your documents with its advanced technology to check for their uniqueness.
This online tool is one of the best tools on the internet because it contains all types of tools under one roof, such as a plagiarism detector, paraphrase, summarizer, title case converter, and much more. Whether you need to check for plagiarism or need to paraphrase your content, text reverse is the best for all types of your needs.
Here your content is scanned with advanced technology, and the results are presented in seconds. The tool is completely safe to use, and students and freelancers who need a quick solution to complete their pending tasks can get their hands on this amazing plagiarism detector and paraphraser.
Like other plagiarism checking tools, Copyscape is also one tool that offers plagiarism detection online. It is a free website and is accessible from the internet very easily. It just requires the user to sign up, and then they are free to use its features. It scans each word and provides results in minutes.
Copyscape is quite user-friendly, and people who need to check the authenticity of their assignments daily can use this tool for submitting original content online.
Plagiarisma is a multi-purpose plagiarism detection tool used by students, professors, writers, and others in the literary business. It supports over 190 languages, so you can rest confident that no language is left out.
This tool is very simple to check for plagiarism in your essay. You may check for plagiarism via a URL, online, or file upload. Simply copy and paste your text, offer a URL, or upload a file from your computer or device into the relevant area.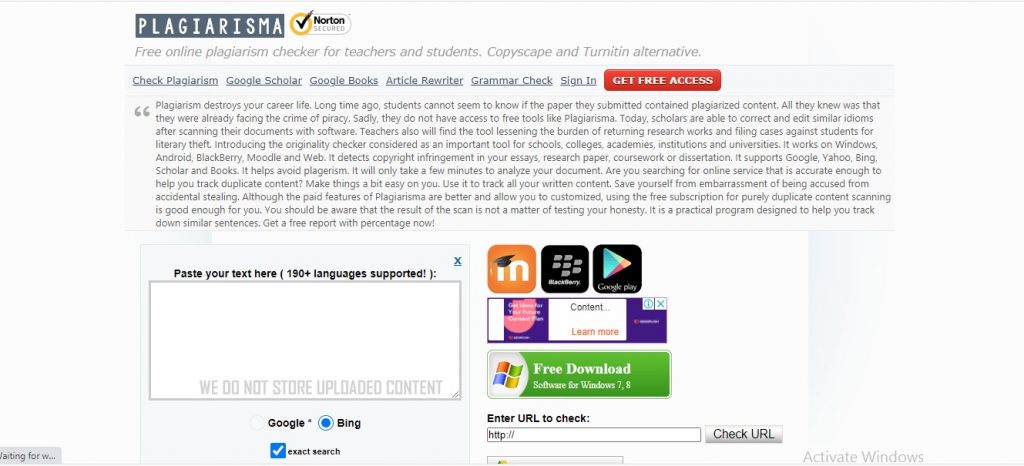 Conclusion
Writing content every minute is a part of a writer's life. A writer who is assigned to create content every day needs to have original and unique ideas so that he/she can create authentic content each minute. Whether you add your personal life experiences or add your opinions and suggestions to make it look unique, there are still times when plagiarism enters your document and makes your content duplicate. Here's when a plagiarism checker helps you save from the situation.
A plagiarism detector is like a friend to a writer who needs to check the authenticity of their content every minute. There are thousands of plagiarism detection tools available on the internet, but not all of them provide the best results; therefore, choosing the best tool and submitting unique work is your decision. Choose your decisions wisely to steer clear of any kind of mistakes in the future.