Plagiarism checker tools, also popularly known as Plagiarism detectors, plagiarism checkers, plagiarism finders, plagiarism checker software, plagiarism checker applications, or text duplication finders are tools used to check the authenticity, originality, and the source of online content. There are a number of free, paid, and freemium plagiarism checker tools available in the market but not all of them provide the best results; therefore, choosing the best plagiarism detector tool is critical for high-quality and error-free plagiarism checking. The list of top plagiarism checkers will help content writers and businesses check their content for duplication issues.
What is Plagiarism?
Plagiarism can be explained as copying other people's content or stealing someone else's ideas and publishing under our own name. It is an offensive crime, and people using plagiarised content on their websites or assignments can be in danger if they are caught. It is a type of academic dishonesty that doesn't just happen in school. There are many cases where people have plagiarized other artists' work, novels, or articles without citing their sources properly.
Plagiarism takes many forms, from copying someone else's work to paraphrasing their words. The worst form of plagiarism is submitting the work of others as your own.
Content plagiarism is the unethical and illegal act of passing off somebody else's creative work, content, articles, quotes, ideas, data, statistics, graphs, images, etc. as your own without any attribution or royalty to the original creator.
It typically refers to copying SEO web content like blog posts and articles, in an attempt to scale up content production without doing the work required.
Three main kinds of content plagiarism are copy-pasting, patchwriting, and unintentional plagiarism.
Copy-pasting is the act of copying and pasting chunks of other people's writing into a patchwork article.
Patchwriting is when a few words are changed around so that the plagiarism goes undetected.
Unintentional plagiarism is when someone unknowingly copies someone else's work due to a lack of understanding or knowledge on the subject.
In the past, there were not many websites where people could do marketing about their businesses. Therefore, there were very few websites on the internet. But now the times have changed, and almost everyone is going for a web portal where they can do marketing about their brand and products/services.
In this case, the competition among online websites has increased, and you will find multiple types of websites under one type of product or service. Therefore people try to use other people's ideas over content and design to make their websites stand out from the crowd. However, plagiarism does not help search engines to recognize your brand from a sea of different types of websites. To get your website on the top, you will need to have unique and fresh content that is not present anywhere else on the internet.
Plagiarism is a dubious, unethical, and illegal activity, and search engines like Google are smart enough to detect plagiarized content.
Sometimes, it happens that our work is similar to many other brands, but it is up to the owner how he/she wants to portray their brand among the audience to make it outstanding and unique.
Why is it Important to Check Plagiarism in Your Content?
Plagiarism is important for your website because it affects your business and identity. If you are a freelance writer or a blogger and write content for different clients, and if you get caught with plagiarized content, your career will be ruined in minutes.
Sometimes, while writing, we don't realize that we are using sentences that may have been used elsewhere because you never know if the ideas you are using are already used somewhere, and your content can have a chance of duplication. To avoid such unintentional plagiarism, one can use duplicate checkers or plagiarism checker tools.
Content similarity detection is an important technique for plagiarism detection. It effectively identifies the plagiarized content of multiple documents, providing a list of phrases that are similar to each other. Content similarity detection is research in the computational linguistics field that advances the state-of-the-art for automatic recognition of plagiarism, close paraphrasing, and near duplication.
What is a Plagiarism Checker Tool?
Plagiarism checkers are programs that scan your content for any copied, unoriginal, or even paraphrased content. A plagiarism checker works by scanning your writing and comparing it with the sources you've used. It then creates a report detailing the parts you borrowed from other writers and estimates its level of uniqueness (i.e., how much it differs from the original). Afterward, you can decide how to proceed: either correct these parts or add citations to them to protect yourself from accusations of plagiarism.
Plagiarism checkers scan a paper or essay against a database of published content and identify matches. However, this tool is not perfect, nor is it foolproof. The limitations of some plagiarism tools are:
It's not always easy to know if a website is trustworthy or has an accurate plagiarism checker. The tools also aren't always capable of finding every instance of plagiarism. For example, they might miss some paraphrases that are similar to others in your content.
It's also not always easy to detect plagiarism, especially if the source text is hidden in quotations or paraphrased in your own words.
Still, plagiarism checkers will eliminate major plagiarism issues from your content.
A well-designed plagiarism checker should have these features:
It can be used for any type of content – essays, articles, lab reports, etc.
Allows uploads of Docx, Notepad, Word, PDF files, etc.
Quick scanning process – The faster the scanning process, the more time you'll save!
Ability to detect multiple languages – Some papers may contain text in other languages besides English.
15 Plagiarism Checker Tools With Free Versions
This article lists the best plagiarism checker tools that are best to use in 2023 for all types of webmasters, content marketers, content writers, students, and faculties. The list is compiled by our experienced content writers after careful analysis of the free plagiarism checker tools available in the market.
The list has not included paid plagiarism tools such as Grammarly (though one of the best it's paid and does not come with a free version). The listed tools have free versions.
Let us look into their details and features:
1. Copyscape
Copyscape is a leading and trusted brand in the content world for plagiarism checking. Copyscape comes with a free version for plagiarism checking. It can easily detect plagiarism and provide detailed sources from which the plagiarism is being found in the document.
Business owners can check the content of their website on Copyscape. You can check online publications, blogs, marketing materials, or any other piece of information available online on this platform for free.
Checking for plagiarism in articles is made easy with Copyscape. Incredibly affordable yet among the greatest products available online.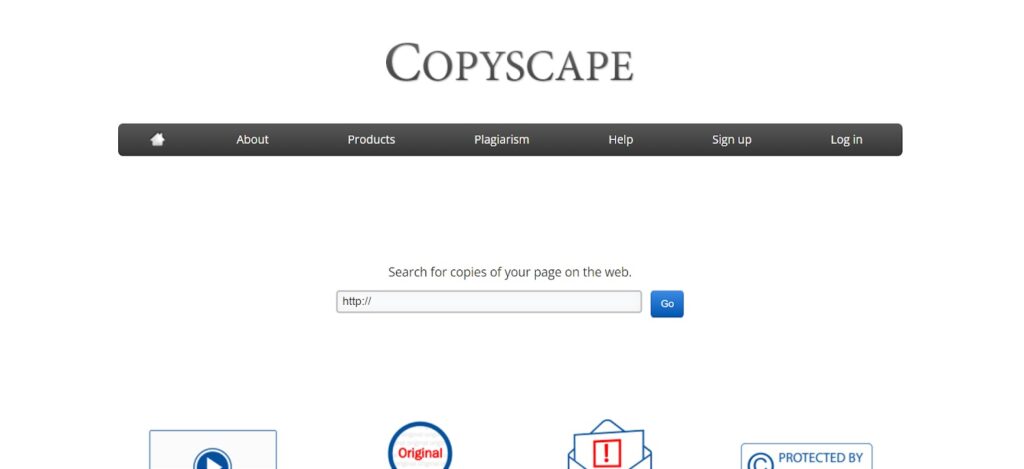 (Source: Copyscape)
Key Features
Copyscape is a simple, straightforward, and free online plagiarism-checking tool.
It has the highest accuracy in the results compared to other tools available online for plagiarism.
You can directly compare your content with other websites using Copyscape.
Compare different types of content on this platform like website content, blog posts, research papers, etc.
2. Duplichecker
The finest tool for verifying violations is Dupli Checker, which allows you to upload a document in Docx format or copy a text of up to 1000 words. It can perform deep scanning of documents and give accurate results.
You can find the result of plagiarism in percentage format on this site. Duplicate text is highlighted so that you can easily identify the content that needs changes. A good tool for small and large-scale businesses, content service firms, and freelancers.
Duplichecker helps you in many ways like creating unique content, helps to improve the tone of the content, and boosting the writers' creativity.

(Source: Duplichecker)
Key Features:
You can check 1000 words at a time in the Duplichecker plagiarism tool.
It has a paraphrasing tool that will help you instantly upgrade your content without much hassle.
Duplichecker also provides an option for checking the source of images and grammar check.
It deeply searches for content uniqueness and generates an accurate report.
3. Smallseotools
Smallseotools is one of the best options to check the integrity of online publications and various content formats online. It carefully scans the documents and gives the result with the highest accuracy. You will find red flags and indications highlighting the duplicate content.
It has a useful feature of having dropbox and google drive options to integrate the content from your cloud storage. This compatibility will help you to find the content easily accessible. Moreover, it supports multiple languages other than English and you can speak English if you are not familiar with the English language.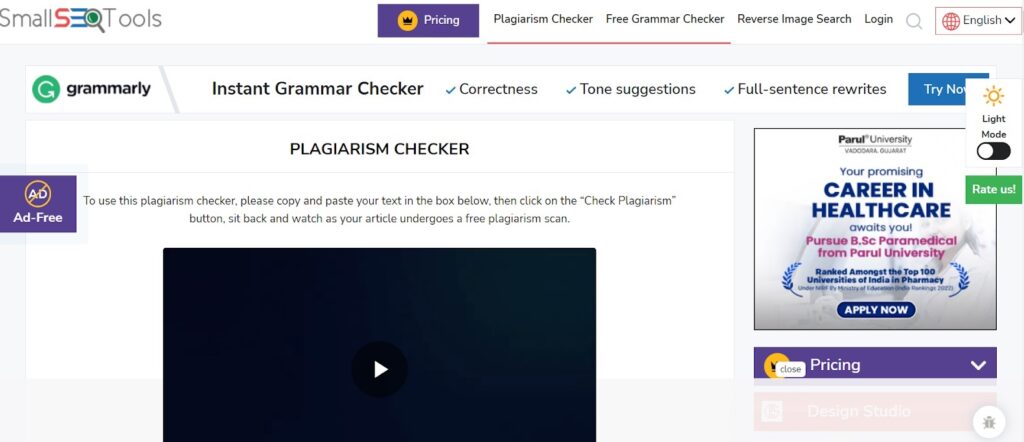 (Source: Smallseotools)
Key-Features
It is a quick and hassle-free solution for plagiarism checks that is available free of cost online.
Smallseotools plagiarism tool is multi-platform supportive like windows, Linux, Android, iOs, or Mac devices.
It has a URL integration feature through which you can check website content as well.
You can download plagiarism reports in PDF format using this tool.
4. Editpad.Org
Editpad.org offers a powerful tool that will provide you with plagiarism-free content. You can use this tool if you want results in a few minutes with accuracy. It is a valuable tool not only for re-phrasing the content but also for making it unique with some added features.
This tool is straightforward to use and gives effective results. Students, teachers, and other professionals might use them to look for unintended plagiarism. Anyone can make sure that written work is unique using the editpad.org plagiarism tool.
It has a user-friendly interface. With 1000 words capacity at a time, it provides results within minutes. You do not need to have a subscription to use this tool.
(Source: editpad.org)
Key Features
This tool provides instant paraphrasing for essays, paragraphs, and such types of long-form content.
It has four different types of in-built AI modes that uses four different paraphrasing styles in writing.
It helps you improve the readability, vocabulary, tone, and style of your writing.
This tool supports more than 17 languages and it is free to use.
5. Textreverse.com
It is an excellent tool for content creators, bloggers, and academicians. Anyone can use this free plagiarism checker tool that will give not only accurate results but also provide a solution if any plagiarism is found in the document.
Textreverse.com has an in-built paraphrasing tool that will help the users to re-write the content and make it plagiarism free and unique. It is a complete package of necessary features one must require in the plagiarism checker tool.
This tool has vast AI-based data on which it works like magic and delivers significant results in seconds. It is a handy online tool for students and freelancers to create instant plagiarism-free content for different purposes.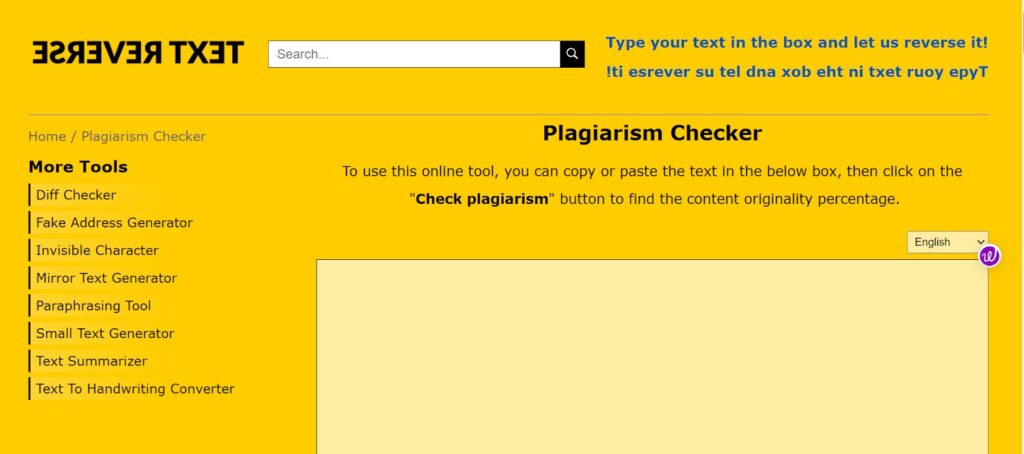 (Source: Textreverse.com)
Key Features
Textreverse.com provides is a complete package having all essential features like a plagiarism checker, paraphraser, summarizer, and much more.
It has an upload files option so that you can save time copying and pasting your content.
Its AI algorithm checks every sentence deeply and it is accurate.
It has plagiarism remover as a paraphrasing tool in-built so you can get the convenience of editing the content on the same platform and skip the tedious task of copy-pasting on different platforms.
6. Plagiarisma
Plagiarisma is a tool mostly used by teachers, students, and academicians. It is a comprehensive tool that supports multiple languages. It is easy to use and a free tool for students who want to check their work before submission.
Plagiarisma works on windows as well as on android. Apart from checking for plagiarism, it also has a grammar checker, article rewriter, and google scholar in it. The best tool for academic scholars is to find the authenticity of the content.
(Source: Plagiarisma.net)
Key Features:
Simple to use. Just copy and paste text, URL, or upload a file.
Plagiarisma is a comprehensive tool that includes a plagiarism checker, grammar checker, article rewriter, and Google scholar.
It supports 190 languages.
This tool supports many file formats such as TXT, DOC, HTML, DOCX, XLSX, XLS, RTF, PDB, ODT, PDF, FB2, and EPUB.
7. Plagiarismchecker.Co
Plagiarismchecker.co is an advanced tool for duplication checks in documents. It gives the most accurate results with percentages. If you want to create flawless content with uniqueness, you can use this tool without much consideration.
This tool is a necessity to maintain the originality of the content. It is user-friendly and inexpensive. Moreover, it provides keyword analysis and keyword density checking that is useful for the optimization of the content.
If you are a content writer, you have to check word counts and other text statistics frequently. Plagiarismchecker.co has this feature to help you out and also provides another amazing option for copyright checks. This will help you to prevent content theft.
(Source: Plagiarismchecker.co)
Key Features
Plagiarismchecker.co helps in plagiarism checks, grammar, and spelling mistakes.
It also helps to find unusual words, keyword density, and re-writing sentences.
Using a copyright checker, you can ensure that no one has stolen your work.
This tool can also help you to meet your text statistics like word count and character counts, that is necessary for SEO and optimization of content.
8. Quetext
Quetext is a free plagiarism checker tool that is a combination of speed and accuracy. It helps the writer having issues in writing and also helps in the citation process. This is the most advanced content editing and plagiarism-checking tool with some useful features.
It has a color grade feature that highlights the duplication of the text in different colors. You can easily find exact match text and replace it. Moreover, it has a "Citesource" feature. This feature creates citations in different formats like MLA, APA, and Chicago formats. You can directly cite the source in your document using this tool.
(Source: Quetext.com)
Key Features
It uses a deep search technology feature that checks the content with contextual analysis and word placement in the text.
It has a high speed of operation and accuracy of results.
Your content is safe on this website due to a strong privacy policy.
With Rich and intuitive Feedback, you can get a comprehensive plagiarism score.
9. Plagly
Plagly is a tool that helps students, content creators, and SEOs to write error-free content. This tool analyses your writing and compares it with the entire internet. Moreover, it instantly checks the grammar and helps you eliminate mistakes.
Plagly is a free plagiarism checker for students and teachers online, which is trusted by leading institutions and universities. It allows students to scan academic papers, essays, and assignments for plagiarised language.
It has an algorithm that updates every day. This is helpful to create fresh and unique content. By using this tool, you can optimize your website, and improve readability and readership.
(Source: Plagly.com)
Key Features
It offers a Google extension option.
Plagly has a grammar check and plagiarism check with natural language processing.
It has an API access integration.
You can use it in Google Chrome, Google, and Mozilla Firefox.
10. Searchengine reports
This tool is designed to meet the content needs of the content creators. Students, teachers, and content creators can use this tool effectively to perform better in their roles and academics. It performs in-depth plagiarism checks with accuracy.
Its top-notch features help you to maintain the originality of your content.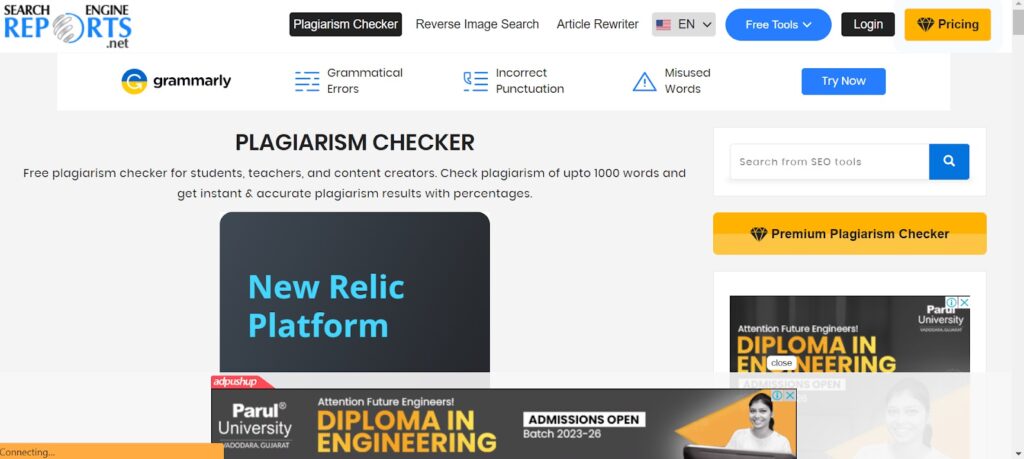 Source: searchenginereports.net
Key Features
You can check 1000 words in one go in this plagiarism checker tool online.
You can directly copy your content and paste it into the dashboard or select files from your cloud storage.
It supports different file formats like .doc, .pdf, .txt, etc
It supports 20 multiple languages.
11. Plagiarismdetector.net
Plagiarismdetector.net is the number one choice for most corporates and digital marketing freelancers worldwide. Anyone can do unlimited plagiarism checks with this tool. If you want an extra level of plagiarism search and additional result details, go for it.
With the help of this tool, you can rank on Google SERP. Therefore SEOs use it the most. Apart from content creators, it is also used by students and professors. It matches lexical frequencies, word choices, and matching phrases.

(Source: plagiarismdetector.net)
Key Features.
Plagiarismdetector.net has a plagiarism detector and paraphrasing tool.
It also helps in reverse image search and supports 12 different languages.
You can check 1000 words for free at a time online using this tool.
It generates accurate reports with deep search and data safety.
12. Plagscan Online
This tool is ideal for candidates who are new to technology. As the interface is user-friendly, it is very useful for college-going students and content writers. It is an effortless, comfortable and smart option to maintain the authenticity of the content.
You can easily share reports with your colleagues using Plagscan online. It has a labeling and archiving system so that you can sort the documents properly.
(Source: PlagScan.com)
Key Features
It has LMS integration and API access
It provides a complete source of matched sources within seconds.
You can work offline and export the pdf report of plagiarism using this tool.
It denotes different types of matching with colored highlighting.
13. Plagiarismchecker X
This advanced tool will help you to upgrade your research papers, blogs, assignments, and website content. It is an advanced tool that can be used by students, teachers, writers, journalists, and digital marketers.
While giving quick and accurate results, it also helps in website plagiarism checking. The app has quote and bibliography exclusion tools to help academic users tailor the scannable information for reports to their institute's specifications.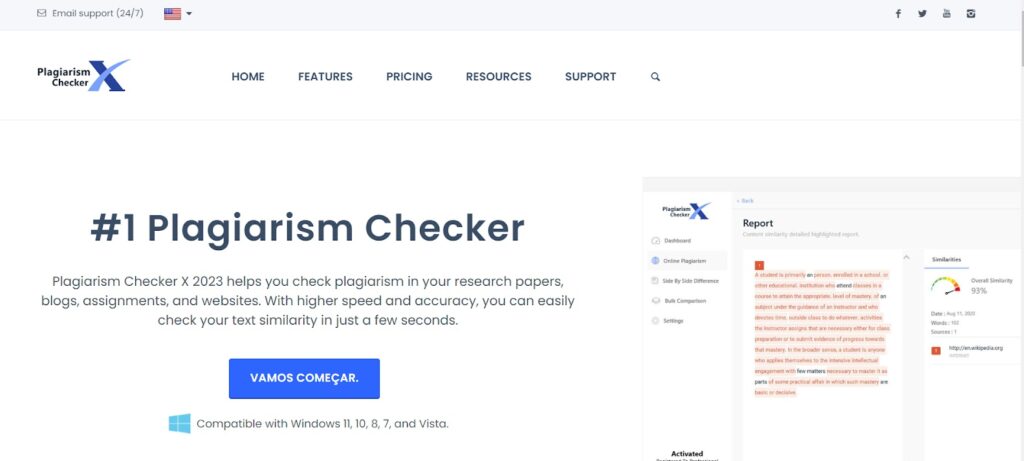 (Source: plagiarismcheckerx.com)
Key Features
It is compatible with Windows 11,10,8,7 and Vista and supports multiple file formats like Microsoft Word Documents, Spreadsheets, PDF, and RTF.
It supports 50+ languages and is used in 120+ countries.
You can check two documents simultaneously using this tool.
It has a bulk research feature that is useful for teachers in checking multiple assignments of students in one go.
14. PaperRater
It is an online tool for plagiarism checks suitable for most educational institutions. However, business corporations and freelancers across the world also use the PaperRater tool. It offers some unique features like vocabulary feedback and automated scoring.
It is a very useful tool for students to rectify grammar mistakes. Professionals can use it to improve writing projects and make PPT presentations more insightful.
(Source: PapeRater.com)
Key Features
PaperRater offers unique features like a vocabulary builder and matching text viewer.
It scans the content for plagiarism across the web and provides a source for it.
It also has a proofreading feature and gives suggestions to improve writing style.
Its Reporting Statistics and document review are the most useful features.
15. Copyleaks
Copyleaks is an AI-based plagiarism checker that operates through an advanced algorithm. It can detect minor changes in the text and is the most accurate plagiarism tool. It compares different file formats like.doc, .pdf, and .txt.
It supports more than 100 languages and has multi-layered extensive search capabilities. The tool breaks down similar results for you. A comprehensive report contains all similar matches, statistics, suspected sources, and similarity percentages.
(Source: Copyleaks.com)
Key Features
It has CheatSpot.AI technology that helps in Character replacement.
It has a feature to compare two different websites to detect copyright infringement.
Copyleaks provides powerful API and LMS Integration.
It has a duplicate file finder feature. This will delete duplicate files and make extra space on your laptop or PC.
Conclusion
Plagiarism checker tools, also popularly known as Plagiarism detectors, plagiarism checkers, plagiarism finders, plagiarism checker software, plagiarism checker applications, or text duplication finders are tools used to check the authenticity, originality, and the source of online content. There are a number of free, paid, and freemium plagiarism checker tools available in the market but not all of them provide the best results; therefore, choosing the best plagiarism detector tool is critical for high-quality and error-free plagiarism checking. The list of top plagiarism checkers will help content writers and businesses check their content for duplication issues.
If you are looking for more tools for content writing, you can also check our articles on Keyword research tools and Grammar Checker Tools.
Author Bio: Mansi Trivedi
As a freelance content writer, Mansi specializes in creating engaging and informative content across a wide range of topics. With a keen eye for detail and a passion for storytelling, I am able to turn complex information into easily digestible pieces that resonate with audiences. My background in both creative and technical writing allows me to produce content that is both creative and accurate. Whether you need blog posts, articles, website copy, or product descriptions, I am here to help take your brand to the next level.