In the world of digital marketing, you cannot overlook content. Content writing services for digital marketing agencies assist them in creating, delivering, and managing valuable content for their clients. While as a digital marketing agency, one might create diverse content pieces for their clients, they cannot do away with the fact that they need it more than anyone else.
Exploring the best content writing services for your Digital Marketing Agency?
You have landed at the right place.
Content Assistant, content writing services firm, provides a range of customized content solutions for Digital Marketing Agencies.
The goodwill of a digital marketing agency is determined by the work they serve to their clients, and content acts as a significant parameter of their work. A smart piece of content acts as fuel to every digital marketing campaign; it helps drive conversions and makes a long-lasting impact on the reader's mind.
But then, is it fair to load your in-house team with client and agency work? You know the answer. That is why you should hire the best content writing services for digital marketing agencies. This article will detail the need, importance, and benefits of hiring content writing services for digital marketing companies.
In-House Team At Digital Marketing Agency V/s Content Writing Service Provider For Digital Marketing Agency
If you still have qualms about hiring content writing services for digital marketing agencies, let us elaborately tell you.
Saves Effort
Crafting content for your agency in-house means using your resources: human and physical, towards building your business. This is necessary, but when resources are split, optimum results cannot be delivered to clients.
Reduces Contention
Who would want their entire team to be always in worry about what is the priority task; office work or client work? When you outsource the work to a reliable content writing services provider, you are free from the hassle of what to write for your agency. The confusion of tasks and priorities is therefore taken full care of. 
100% Dedication
Do you want your writers to always be in the humdrum of using their limited time and mental capacities? It would result in a tilt of performance, either toward agency or towards your client's work. To balance this, the best-suited option is hiring a content writing service provider for your digital marketing agency.
Limitless Content
As you outsource the work, you gain access to various content types, formats, and pieces. While your agency would have done things to strike a balance, you will always have a surplus to put on the internet.
Multiple Niche
A content writing service provider has multiple writers who are experts in various niches. This will be of advantage to your agency as you can have work done through them. Even if your agency does not have an expert for a client, you can outsource that work to the service provider, and you'll get the content that you require.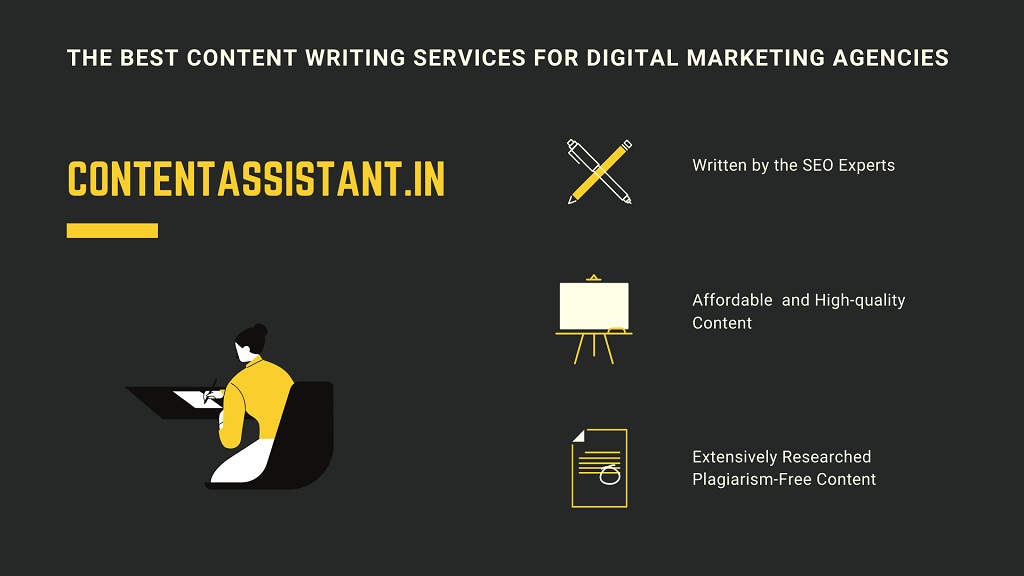 Types of Content Writing Services Required for Digital Marketing Agencies
In the long run, your content will always help you gain greater heights. It builds trust, establishes relationships, and shows your agency's caliber. But what are the different types of content that a digital marketing agency needs, or to be better framed, what are the various types of content that a service provider can give to you? Read along to know all the answers.
1. Blog Posts
One of the most sought-after content types is blog posts. In the blog posts, you can express a varied range of opinions, thoughts, and stand about what you feel. Blog posts are usually long from content, but as an agency, you can include various topics like industry insights, activities at the office, or even create a database to showcase why the services that you provide are crucial for any business.
2. Articles
Articles state facts and can be used as a part of your website content to share things with your clients. The content usually is B2B, but the right content writing services provider will know what and how to do it.
3. Case Studies
You can showcase the work done for your client through case studies. It not only has problems & solutions but also shows the impact you create through your strategies. This can be helpful, especially to garner the client's attention towards the smart execution your agency can do.
Another type of case study can be studies done by various agencies that can be valuable for any person interested in digital marketing. 
4. Organizational Culture Videos
Content also helps in the discovery of the right people to hire, builds an enviable reputation, and goodwill for your business. Through such interactive videos, you can showcase your agency's culture, your values and attract the right kind of people. These videos help in brand building as you do not pitch your services but your work ethics.
5. Testimonials
Client reviews matter significantly, as they act as social proof. With the right content marketing efforts in consultation with the client, a content writing service provider can form testimonials for your business that can be uploaded to your website.
How you treat people also matters. Various testimonials like employee testimonials, CSR work testimonials also make an immense difference to your brand name.
6. SEO Content
SEO is a big part of digital marketing, as you know. SEO content, when formed with the right goals, will improve your ranking, your reputation, and reach. If you hire the right content writing service provider for your digital marketing agency, you will have a content placement at various sites that will create backlinks. It works towards a better SEO for your agency.
7. Website Content
Your website is your online home. From the home page to lead forms, Everything on your website is content. When a content writing service provider works with you, they stand a chance to create stellar content for your website to attract the right audience to your site.
8. Press Release Material
You can grab the attention of people by being in the news. Content writing service providers for digital marketing agencies create PR material that showcases your best; in the news, webinars, client acquisitions, best work, etc.
9. Industry News
As an agency, you must always stay updated with the latest news, updates, and statistics. With industry news content, you establish leadership, create a unique identity, and work toward becoming a market leader. You can push industry news through various methods like posts on the website, blogs, guest posts, podcasts, live videos, etc. 
10. Portfolio
As not every client's work can be presented as a case study, you also need a portfolio. It shows your work multi-industry, cross-domain, multi-product wise. Through this, you can attract clients from various areas of the business world. 
11. Social Media Content
When you stay relevant, you stay in the internet world. Social Media has grown more than ever, and the content that you create there speaks volumes for your business. From trending memes to viral content, the language that current generations talk about, you can find it all on social media. And that's how you can provide value to attract the audience.
12. Resources
To showcase that you are a responsible digital marketing consultant, you can create a database of resources like White papers, e-books, the latest in digital marketing, etc. This can be done effectively by the right content services for your agency.
13. Infographics
What is better than visual plus text content together? Infographics can help you get located on social media, on google, and even in the images section. Your infographics can be on anything; clients, employees, digital marketing, or even about statistics.
14. Podcasts
As per Grandview research, "The global podcast market size was estimated at USD 9.28 billion in 2019 and is expected to reach USD 11.07 billion in 2020". As a digital marketing agency, you should always be up for every new type of content. Just like infographics, you can create podcast series and garner attention and actions.
If you are willing to hire content writing services for digital marketing agencies, you can explore many more types of content pieces.
Why is Good Content Essential for your Digital Marketing Firm?
1. Help you and your clients rank on Google- SEO content writing services for digital marketing agencies help you and the brands associated with you grow and be more visible in front of the audience.
2. Help you gain authority- When you post regular content that adds value to the reader, your brand gains authority in the market. People start to resonate with your site, and it helps your digital marketing agency to reach a wider audience.
3. Drives conversions- A good piece of content always ends with a Call to Action (CTA) that tells the reader their next step; this process brings a lot of conversions to the website. A digital marketing agency can also measure the conversion rate by applying a proper Conversion Rate Optimization (CRO) strategy.
How To Find the Best Content Writing Services For Digital Marketing Agencies?
Now that you know the importance of content writing services for your agency, it's time to check out the various parameters that define a services provider as the best.
Writers Base
Content is made by content creators/writers. An agency with the right mix of fresh and experienced writers with niche expertise is a good-to-go service provider. Writers most suitable here are the ones with a knack for marketing and storytelling, as both are important for creating convincing marketing content.
Quality V/s Quantity
It would help if you never run behind quantity. A digital marketing agency requires a content writing firm that provides them quality content and not just a piece of write-up within a specified word range. The right content writing agency will always put quality work over numbers and will strive to provide stellar content. 
Delivery Time & Changes
The real test of an agency is upon when and how they deliver. Find an agency that has strict timelines and specifies the number of edits it can provide. When one express term and conditions explicitly, they are bound to follow it.
Listening Ability
It is only when they can patiently listen; they can focus on your requirements. A content writing agency should focus on the requirements of clients and understand what works best for them. To find the right choice, you need to look out for a content agency that understands content and can help you consider all your needs.
Subscription Models
While most content writing agencies have subscription models, the best suited to you will be the one that fits your requirements. Also, customizable models are best when in the digital marketing industry, and the type of content you need might not be readily available in all models.
Experience
If a content writing agency has experience in working with firms like yours, they deserve brownie points in your selection parameters. With experience comes knowledge of what works well for the audience.
Can connect with the audience
Always choose a content writing firm that is capable of crafting content that helps the reader resonate with the brand by highlighting and solving their problems.
Both the firms are on the same page
Before selecting a content writing firm for your digital marketing agency, make sure you have discussed all the terms and conditions on how you want the content to look like. A digital marketing agency can also specify the method of researching, SEO tools to be used, etc. Being on the same page will avoid future conflict between both the parties.
Adaptable to the client's requirement
The content writing services for digital marketing agencies should be flexible and adaptable to the client's requirements. A content writing firm that poses a very strict working pattern might not be suitable for a digital marketing agency.
Last Words
Content writing services are as essential for a digital marketing agency as they are to any other industry. Various content types can be created for an agency to build a better reputation, attention, and name in the industry. It is a crucial choice to select an agency to write on your behalf but if you find one that ticks all the parameters, outsource your work to them immediately.
We provide various content writing services to many domains. Content Assistant also has a history of working for content writing services for digital marketing agencies. With the services provided by us, you can feel free to focus on your core domains while we sit with our experts to work for you!
Feel free to contact us.