Exploring the list of the best content writing tools to ease your content writing efforts? Content Assistant, Content Writing Services has compiled a list of the top content writing tools you will ever need.
It takes severe effort and a keen understanding of the 'context' to blueprint 'outstanding content'. One also has to design a proper framework before one initiates content writing. It requires consistency and top-notch quality, along with a perfect action plan to create authoritative content that drives value to the target audience and converts them into potential customers.
Often content writers find it challenging to create catchy headlines, sharp meta descriptions, appealing graphical content, and an error-free final draft. Moreover, including visuals, a standard format, and the perfect length for the content requires additional effort and time. It may feel like a mess, but this arduous task can be made easy by using content writing tools.
Content writing tools make the work of content writers easy and more productive. However, choosing the right content writing tools is not as easy as it may seem. With a plethora of content creation tools and lucrative vendor offers, content writers may find it overwhelming to choose the best ones for themselves. Therefore, this article intends to help content writers select the top content writing tools as their 'helpmates' in writing exceptional content.
What is a Content Writing Tool?
Content writing tools are software applications that assist you in writing, developing, and creating error-free and engaging content in less time. These tools curate content to make it more compelling and refined. Content writing tools can be used to create exceptional content for your website, blogs, articles, or even social media posts. It acts as your instructor when you encounter difficulty with your write-up at any stage. There are many free content writing tools available to make your life easier as a content writer and help you out with your content requirements.
With the aid of the content writing tools, your content will flourish as:
Authentic,
Grammatically correct
Free of errors and repetition
Engaging
Rightly delivered
Plagiarism free
SEO-friendly
Well-researched
Properly structured
Free from contentions and vagueness
In short, after all this, there is no way your content won't come to life.
Types of Content Writing Tools
Content is the soul of your digital marketing efforts and strategies. But how to get noticed and grab attention when millions and billions of content are already floating around the world wide web? Here comes the role of content writing tools. The promising part is there are tons of content-writing tools that are free to use! The free content writing tools have features to help you in creating valuable and optimized content. But, if you want more robust features, you can always go for a paid subscription and avail the undiscovered functionalities.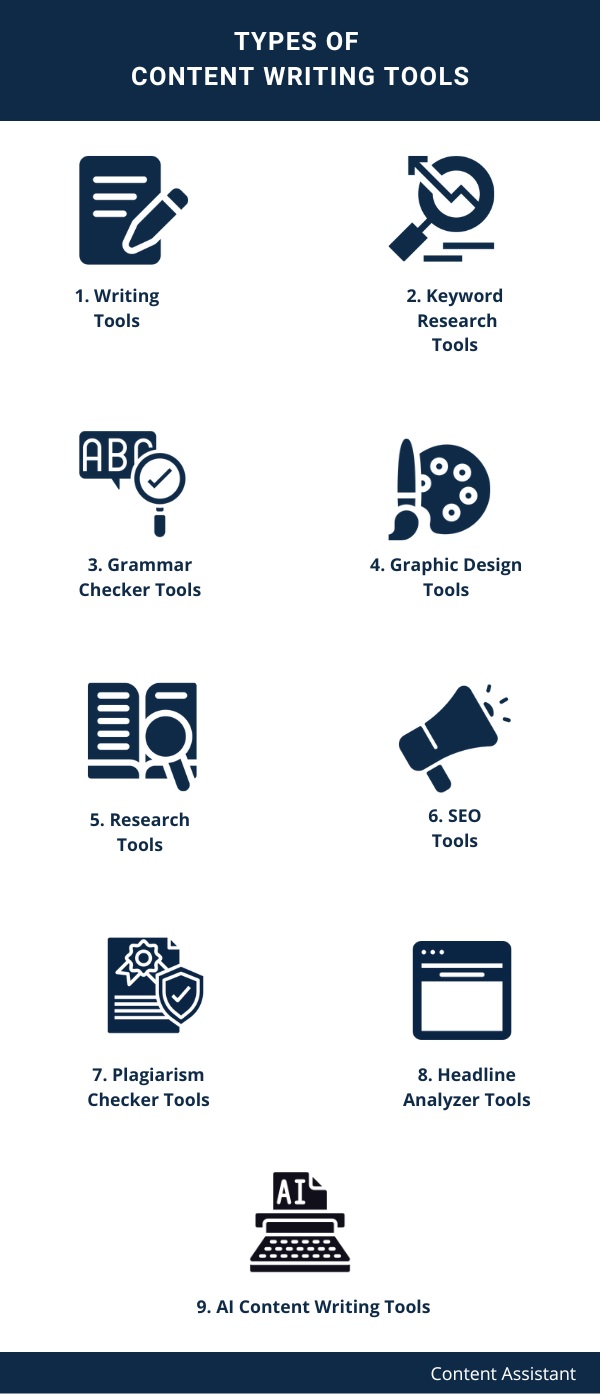 Now without any further ado, let's look at the details of the top content writing tools to ease your content writing work:
1. Writing Tools
For content creators, writing is fundamental. And to make sure what they pen down stays safe, writing tools come in handy. The writing tools make sure whatever you write stays in your PC and does not get lost!
What are Writing Tools?
Writing tools are applications that assist writers in writing, editing, viewing, and formatting written text. They are either installed on your PCs or mobile or can be used online as web-based applications.
A) Google Docs:
Google Docs is a web-based word processor that lets users create, save, and edit files online. Well, most of you are already using this content-writing tool. For the ones who don't, trust me, you have got to start typing all your documents on Google Docs from now on. The reason is it is easy to use, accessibility is 24/7, and you can collaborate with your team in real-time. You can share the file with other users and invite them to edit the file.
Key Features of Google Docs:
It has an auto-save option wherein you can always be assured never to lose out on your work.
Google Docs is a mobile-friendly application
It provides great formatting options for your content.
Import and export facility is available
By default, it saves all your work in your Google Drive.
B) Microsoft Word:
Most writing application Microsoft Word does not fail to impress us. Microsoft Word is a word processor that works either as a standalone product or as a part of the Microsoft Office suite. It lets users create, edit, format, and save text files offline.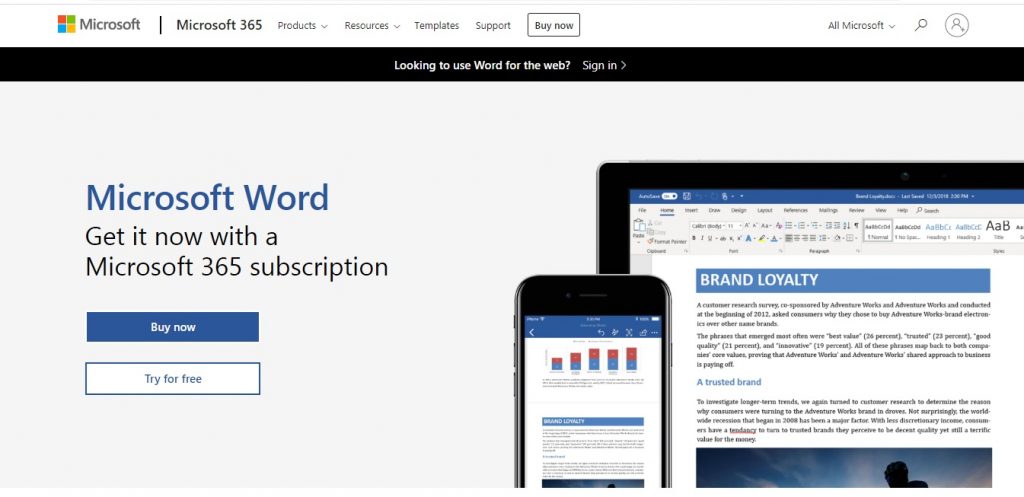 Key Features of Microsoft Word
It provides you with great visualization of the text and diagrammatic outlay to make your documents look appealing to the eyes.
However, when you save the document, it gets saved somewhere in a local drive without the privilege of instant shareability.
Other features include: find and replace, grammar and spelling check, mail-merge, insert watermark, hyperlink texts, etc.
It is a mobile-friendly content writing tool and has a free mobile application, but the desktop version has to be purchased.
2. Keyword Research Tools
Without the right keywords, you cannot be found, no matter how great your content is, right? Now, this isn't brand new information for most of you, as you already are in this profession. But choosing the appropriate keywords and using them intelligently can be a little tricky. For instance, a lot of brands and companies, both small and large, firms, etc., are competing to get visibility using the keyword. You might end up getting lost when you compete with brands that are already established.
What is a Keyword Research Tool?
A keyword research tool is an application that helps you find the most relevant keywords for your business and reveal the search volume, competition level, and advertising costs involved with a particular keyword. It is a subset of content writing tools.
So the keyword research tools that will help content writers make a wise decision when they lookup for a keyword can be-
A) Wordstream :
WordStream's Free Keyword Tool lets you find keywords you need to drive traffic through organic and paid searches. Its Free Keyword Tool uses the latest Google search data to deliver targeted advertising ideas. It helps you in driving search engine traffic through the right keywords. Just enter a keyword and then select your industry and country for targeted keywords. However, it is not essential to select an industry and country. The keyword tool will show you the search volume on Google and Bing.
Key Features of Wordstream
Get relevant keywords tailored to your industry and country
It assigns each keyword a competition score to let you understand its competitiveness
Award-winning Google Ads Performance Grader
B) SEMrush:
This particular tool is efficient when it comes to the business's advertising needs. With that, it also makes a great keyword search tool. SEMrush helps you find not only the relevant keywords but also the most profitable ones! The added advantage of using this platform is it also shows the competition and volumes getting generated from your rivals. It shows how much a person pays to get the keyword you might use for free! It comes with a free trial.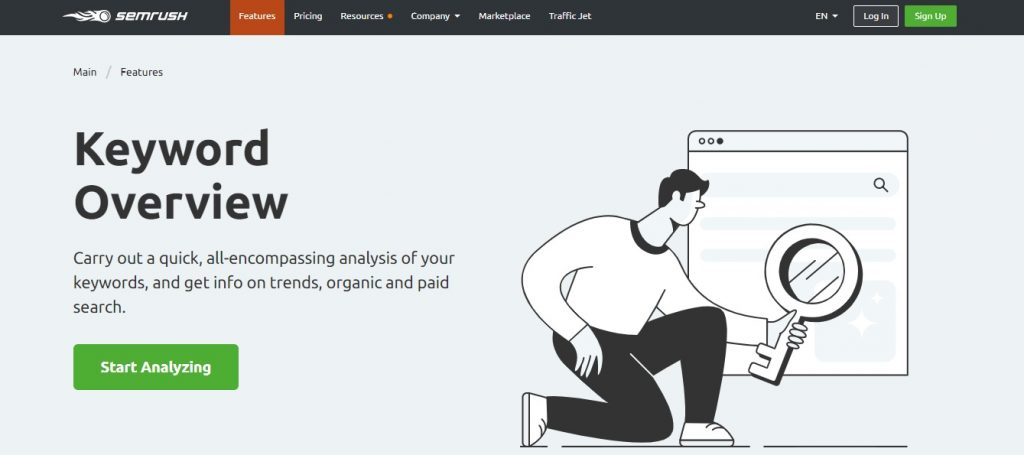 Key Features of SEMrush
Find keywords for SEO and PPC campaigns
Gather keyword phrase matches
See advertising trends and find the potential for advertising.
C) Google Trends:
Google Trends is a helpful keyword research tool for content creators. It is a well-built instrument that asks you to do more of what is buzzing around. Google Trends helps you find the favoritism of a particular topic over time. It also reports as in what is the profitable keyword and also what is trending among the audience.
Key Features of Google Trends
Graph view of interest over time for a keyword search
Time-wise analysis of the keyword search ranging from past one hour to as early as 2004-till present.
Categorize the keyword search trend industry wise
Bifurcate the results for image search, youtube search, news search, or shopping
3. Grammar Checkers
Wrong grammar is a big turn-off! So to make sure your content is free of all grammatical errors, there are certain tools that fulfill the purpose.
What is Grammar Checker?
A grammar checker is a tool that points out your grammatical errors, punctuation issues, and spelling mistakes and even identifies if the lines written are easy for readers to understand or not. It is an essential tool for content writers.
Below are the top free grammar checkers:
A) Grammarly:
Whenever we talk about grammar, the one app that pops into our minds is Grammarly. Because this is by far the best free grammar-checking tool available, the application provides not only the facility to correct grammar but also alerts you if your content is not engaging enough. It also has features wherein it notifies you about the readability of your content. You can enable Grammarly even when you write business articles, research papers, or even a blog post for your own or client's website.
It is an intelligent software app that not only points out incorrect grammar but also sparks you about the additional issues in your write-up, i.e., elements like the usage of simpler words rather than complex ones, active voice vs. passive voice, simpler alternatives of any word, etc.
This way, it also conveys a score that associates with your delivery and readability of the content, which you can decide to edit as per the suggestions. It acts as a personal proofreader for all your writing needs. Nonetheless, the free version is out there for you to use in plenty and works incredibly.
Key Features of Grammarly
Grammarly is an AI-powered writing assistant
Eliminates errors in spelling and grammar, tone, and format
Suggests style issues, eliminates lack of engagement and clarity
Checks plagiarism in its paid version
4. Graphic Design Tools
With great content, great visualization is also of utmost importance. One has to strike the right balance between text and images. Thus, to be able to do that, your content automatically goes up a notch. But are you someone who isn't willing to spend a major chunk of the revenue on a designing team at the initial stage but also can't afford to compromise on the quality? If yes, we are going to tell you about two great applications to ease your concern. As a web content writer or blogger, you may want to add banners, images, infographics, posters, etc., to make your content more appealing.
Even without having any design experience, you can make great designs and infographics with the help of free design tools. It is, therefore, an integral part of content writing tools.
What is a Graphic Design tool?
A graphic design tool is a software application that lets you create, edit, manage, and optimize images and graphics.
Below are the best tools to assist you in designing graphics for your content:
A) Canva:
Canva is a free design tool for content creators and graphic designers. It also has a paid plan for pro-users. Most of you already are a fan of this one? Aren't you? Canva has got some brilliant graphics for all your needs. It has also got tons of types to choose from. The tool has graphics varying from A4 size posters, to banners, to flyers, to every small and big need depending upon the line of business you deal in. It is user-friendly, with lots of designs to choose from. Minimizes or even eliminates the need for a graphic designer. Well built; also, you can customize your designs, and there is no need to adhere to their existing templates.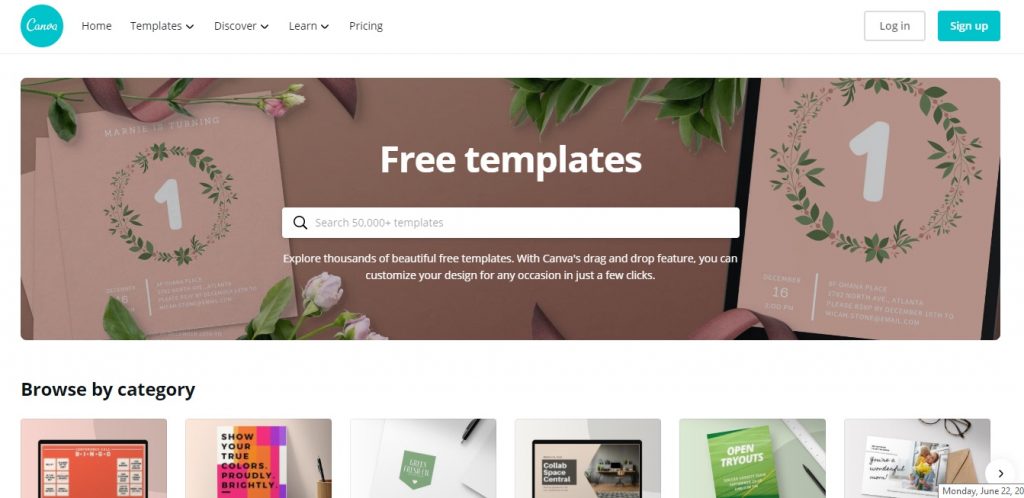 Key Features of Canva
Free design templates for various categories such as Infographics, Social Media, Presentations, and marketing materials such as flyers, brochures, etc.
All design editing tools are available, such as Zoom image, change position, copy, duplicate, delete elements, group elements, etc.
Download options in multiple formats such as JPEG, PNG, PDF, and more.
Share image for team collaboration
Store images in your account's library
Reuse an already-made template
B) humaaans:
humaaans is a free designing tool for content writers. You have got to try this out! It is a brand-new website that offers ample vector illustrations to make your graphics look quirky and relevant at the same time. There are over more than 20,000 illustrations to choose from. You will find the perfect template for any content requirement you may have. The tool is super user-friendly, with minimal effort required to design one of your own, even if you do not know the "D" of designing. It's that simple!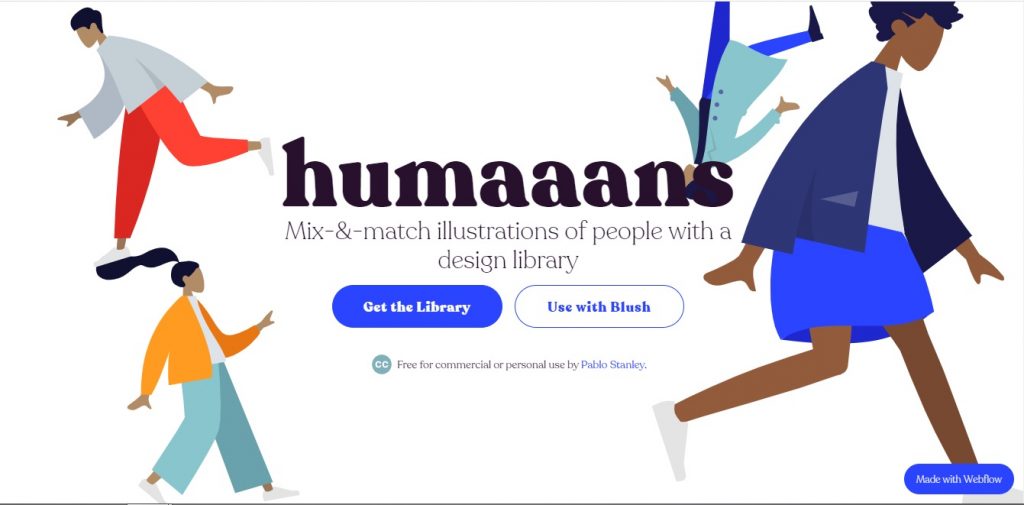 Key Features of humaaans:
Free design library for commercial and personal use
Design the human body and rotate the elements
Position the human body as per your design needs
Get free to use prebuilt templates.
C. Free Images and Icons tools:
For designing infographics, you will require icons, images, vectors, etc. You can use UnDraw Unsplash, Pexels, Freepik, Flaticon to find photos, icons, free vectors, and graphics, and images.
5. Research Sites
When we talk about the steps in content creation, the first step clearly is research. It is basic, vital, and time-consuming as well. With so much to read online, it becomes impossible to read between the lines occasionally, which leads to missing out on essential information. With ample content and data around us, researching sometimes becomes burdensome.
What is a Research Site?
The research site is a portal or a website that helps in finding quality research and statistics to include in articles, blogs, infographics, etc. Research sites are either host to research articles or themselves a research company.
So to ease out the process a bit, there exist some life-saving research sites for you-
A) Google Scholar:
Google Scholar is a free research tool for content writers and academicians. It furnishes an easy way to search for literary writings broadly. From one destination, you can search across numerous disciplines and sources: research articles published books, journals, and abstracts from authentic researchers, renowned journals, universities, and several other research websites.

Key Features of Google Scholar
Search all scholarly journals, the full text of articles, and books
Find related studies, articles, citations, and publications
It indexes the full metadata of research articles
Organize and filter the search by types, topics, authors, date of publication, etc.
B) Research and Advisory Websites:
Few of the most elite research websites, such as Gartner, Forrester, and Nielsen, provide content writers with on-demand entry to access research backed by information, protocols, data science, analytics, etc., to get hands-on the best content available on the internet.
6. SEO Tools
When it comes to tracking the performance of the website, SEO tools do not fail to give us relevant insights. The tools help us monitor the activities of our website most simplistically and effectively. SEO tools show us interactive visuals, where all the data and insights are put right in front of us. In addition to this, it also indicates the best ways to optimize websites to achieve good search engine rankings.
What is an SEO tool?
SEO (Search Engine Optimization) tools analyze web pages for their potential to rank on search engines. The SEO toolkit provides all essential data required for search engine optimization, such as keyword strength, backlinks, snippet data, readability scores, page performance, etc.
Below are the best SEO tools for content writers:
A) Ahrefs SEO Toolbar:
It indeed is a powerful tool that reveals insights and also generates reports for Off-page SEO actions. It represents the integral elements in your content like headline, meta-description, word count, headers, etc. Besides that, it also traces your no-follow links, backlinks, and much more.
Key Features of Ahrefs
Optimize your website content
Competitor analysis to see which keywords rank
Check the keywords' impact and trending keywords.
Analyze the keywords customers search
Set your strategy based on the top-performing content
Track your website's/page ranking and performance
B) SE Ranking
SE Ranking is a comprehensive platform for automating all possible SEO activities, including rank tracking, keyword and competitor research, content optimization, backlink analysis, website technical audit, and more. One of the platform's features is the Content Marketing Module, which consists of two helpful tools for content creation – the Content Idea Finder and the Content Editor. Based on the research of your SERP competitors, you'll get topics with high traffic potential and a detailed brief covering structure, keywords to include, and other writing guidelines.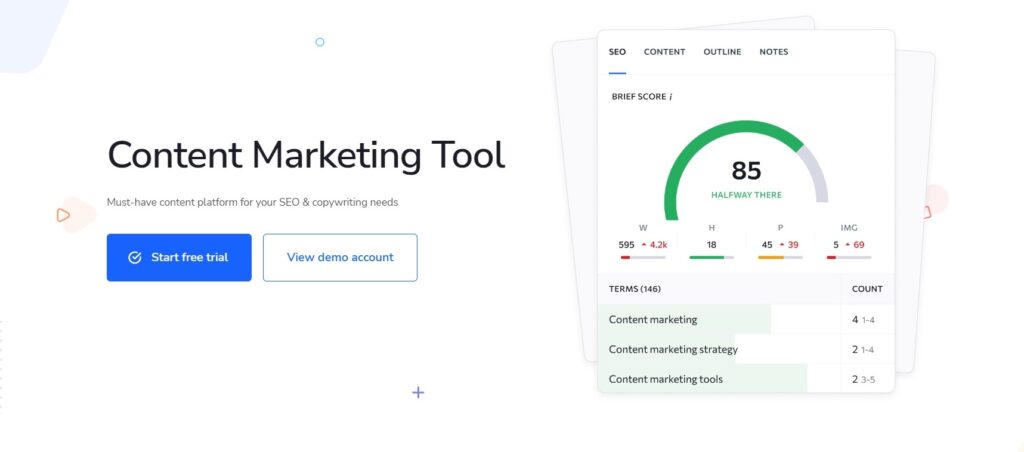 Key Features of the SE Ranking Content Marketing Platform
Analyze the best-performing content of your SERP competitors in a couple of clicks
Get content ideas for high-traffic potential topics
Check how well-optimized your content is with Content Score
Work on articles with copywriters and editors via a shareable link
C) Google Analytics:
Google Analytics is an analytics service offered by Google that tracks, analyzes, and reports website traffic. A great free SEO tool by Google that helps optimize your page by throwing light on the metrics like traffic sources on the web, conversion goals, user metrics, in-depth analysis, and the list goes on. But did you know it can also be used as a great keyword search tool? All you have to do is create an account for the "Traffic Sources" tab within Google Analytics, and that is it. Start looking for the trending keywords. It will show you the conversion rates for every keyword and will help your site revamp better.
Key Features of Google Analytics
Google's machine-learning capabilities provide you with a detailed analysis of your web data
Google Analytics insights help you in formulating your content strategy
Lets you measure your content performance on various metrics
Reports on traffic sources bounce rates, popular pages, page views, etc., help you in revising your content.
7. Plagiarism Detector Tools
Plagiarism is a big "No" when it comes to content in the first place. Not only because it is unethical, but it can also lead you to troubles like copyright violations. So to make sure your content is not copied and is entirely your original work, it is advisable to run your final draft through a plagiarism checker before sending it across to a client or even uploading it on the website.
What is a Plagiarism Checker?
A plagiarism checker is a software tool that helps trace similar or duplicate content from the entire database of the online volume. It is a mandatory tool for content writers as it can find out even the unintentionally copied text and saves you from embarrassment and legal troubles.
Below are the best free plagiarism checkers:
A) Duplichecker:
This free plagiarism checker software allows the catch of identical or exact content types from more than millions of content from existing sources. This particular tool also gives content writers the option to download a plagiarism report as proof to anyone who might require it.

Key Features of Duplichecker
Detects copied content easily
Free to use and available 24/7
Shows plagiarism percentage and unique content percentage
B) Quetext:
Quetext is a free plagiarism checker wherein you can check your plagiarism percentage. It also sites you to the sources from where your content seems to come out to be indistinguishable.
Key Features of Quetext
Contextual analysis of content
Smart Algorithms to detect plagiarism
Provides a comprehensive plagiarism score
Checks billions of web pages and internet sources
8. Headline Analyzers
"Writing headlines is an art," ever wondered why? The first thing that your blog reader is going to see is the title of your blog. It should be impressive, catchy, and exactly what the blog reader was searching for on the internet. It is wrong to assume that people generally read the first three or four blogs that appear on the front page of a Google search. If the audience finds that the heading doesn't exactly clarify what they have in their mind, then the chances are that they will scroll down, and your blog won't be read even after appearing at the helm.
Use a headline checker to analyze how effective your headline is.
What is a Headline Analyzer?
Headline Analyzer is a tool that analyzes your headline's effectiveness and gives your headline a score.
There are over tons of content that revolve around the same topic, but what makes the readers click on your link and land on your page? It is none other than the headline that you choose to put! It is the first impression of your entire content, which you have worked so hard on! And that is why it is crucial to make your headlines grab attention and stand out from the rest. Seems near impossible? Worry not; we have got you on this one as well! Below are the top free headline analyzers.
A) CoSchedule:
Catchy headlines are the first thing that makes your audience decide if they want to read your article further or not. Coschedule is a free headline analyzer that displays how much engagement rate can happen if you use the mentioned headline and also suggests the best next alternatives to optimize the headline for your article.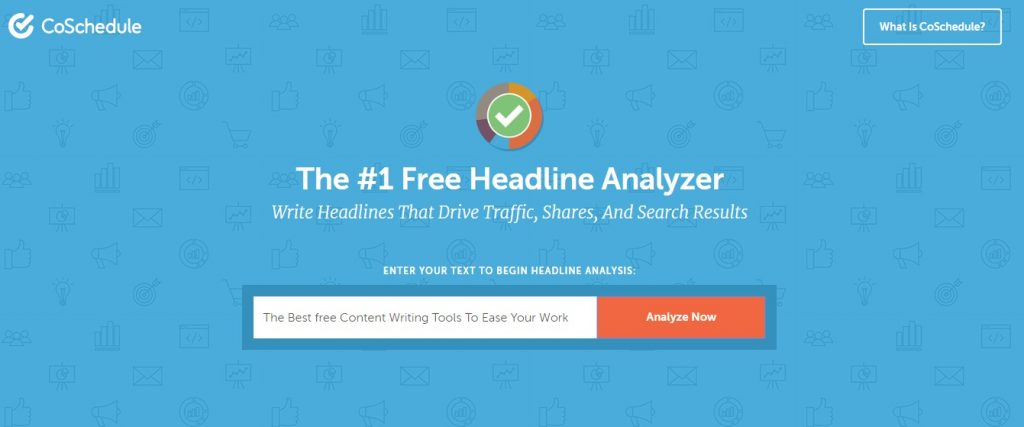 Key Features of Coschedule
It comes with a free version
Provides you with a score for your headline
It tells you the various parameters on which the headline got graded
Makes it easy to include common, uncommon, emotional, and powerful words in your headline
B) Sharethrough:
It is a free headline analyzer tool that demonstrates metrics such as the content's headline quality score, engagement score, and even impression score. It encourages you to look at the issues that your headline might have and suggests the best possible headlines, rank wise for you to choose from.
Key Features of Sharethrough
It comes with a free version
Based on a multivariate linguistic algorithm
Analyses the headline's capacity to capture attention, engagement, and impression
Provides a headline quality score, engagement score, and impression score
9. AI Content Writing Tools
Human content writers should avoid using AI content writing tools for two reasons: First, AI content writing tools are not completely reliable for high-quality writing, and 2. AI tools can generate false information. Still, we are adding this section as they have become very popular owing to the buzz created by ChatGPT and many content writers have reported great assistance from these tools.
What is an AI Content Writing tool?
AI content writing tools are generative AI applications that use artificial intelligence, machine learning, Natural language processing, and computation power to create (imitate) human-like content. Below are some of the best AI content writing tools:
A. ChatGPT
ChatGPT today needs no introduction and almost all content writers are aware of this tool. Though not an exclusive content writing tool (it also has abilities to do coding, conversation, etc.) this versatile application is widely used for content writing purposes.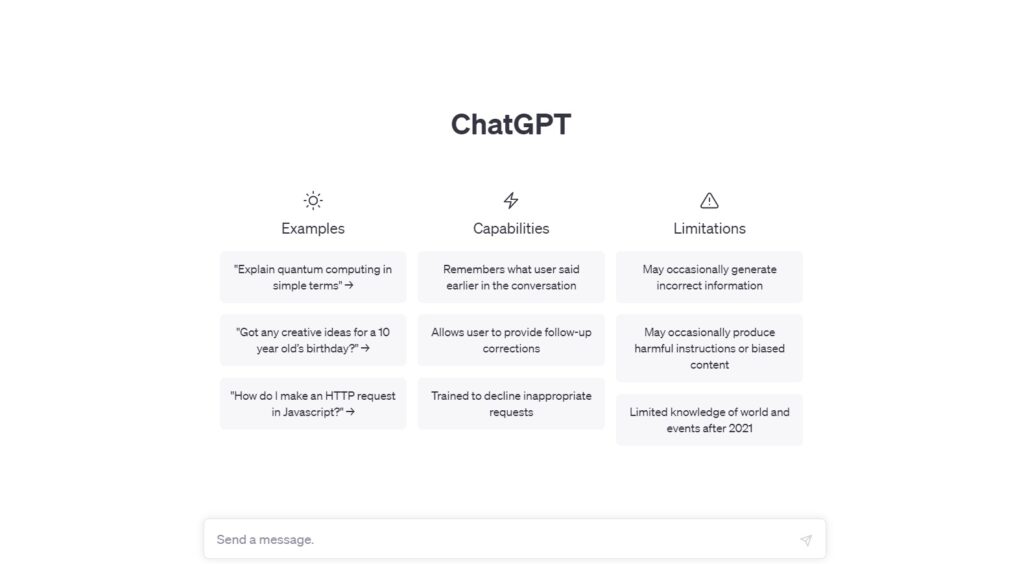 (Source: ChatGPT)
Key Features of ChatGPT
Generates human-like content with prompts
Speed and Efficiency
Self-learning module
Available free
Apart from the content writing tools discussed above, you can also use the below-mentioned tools:
Tools for checking the ranking of your published articles on Google Search Engines Results Page such as Serprobot
SEO analysis tools for your published page, such as Seowebpageanalyzer
Tools for checking Word count on the published page such as Searchbloom
Brainstorming tools such as Scapple
Competitive Analysis tools such LXRMarketplace
Topic Generators such as Hubspot's topic generator
Thesaurus apps such as Power Thesaurus
Social Media Engagement tools such as Buffer, HootSuite, BuzzStream
Backlink generator or call-to-action tool such as Sniply
Content writing Project Management tools such as Zoho Project
NOW THAT YOU HAVE ACCESS TO THE COMPLETE PACKAGE! GET STARTED WITH YOUR WRITE-UP!
In the current scenario, when traditional marketing is fading away, content marketing is making its route among prospective customers. The beauty of content marketing is- it doesn't feel convincing as one executes in sales; rather, it kind of imparts awareness and drives loyalty of the prospects toward your brand.
Make sure to consider the free content writing tools discussed in this article as building blocks for every step of your profitable content writing strategy. It will not only make your content vibrant but will also prove to be of immense help, making you take calculative steps at every step of your content creation. The above-discussed Content Writing Tools are like wizards that create magic!
Enjoy and experiment with these tools and let us know which one has been your favorite! You can also contact us for more information or feedback.
Author Bio:
Supratika Nandi is a freelance content contributor at Content Assistant. She is a content writer whose passion transformed into a profession a year back. She has an exceptional knowledge of modern content writing tools and strategies. She is a voracious reader and loves to watch movies in her free time.