Have you ever come to the realization that there is too much information on the internet? Well, if you have, then chances are you've been experiencing a content shock. Content shock occurs when people become overwhelmed by the information they need to organize and consume. It is a modern form of sensory overload. 
Content shock refers to the risks of the content marketing world drowning in too much low-quality content. As content marketing is getting more and more competitive, mediocre content won't make the cut anymore. In short, if content marketing produces mediocre content on a large scale, there won't be enough people to consume it. 
Content Shock and its Various interpretations:
Content is the lifeblood of every business. But increasingly, people will say they're drowning in content. We identified two problems with this flood of content:
1. A lot of content is crap.
2. The quality of content varies widely, from well-designed examples of great content to copy or images with horrendous errors.
We've all had experiences where we've scrolled through thousands of articles to find a few good bits. Why is it? Yes, that is due to content saturation, leading to content shock. 
Let us see various interpretations of content shock:
# 1 Content shock is a term that describes how people feel when they have too much to read or watch. We are constantly bombarded with information from all directions, and it's easy to feel overwhelmed.
#2 A content shock happens when the same piece of content is shared on different social media channels. When this happens, it can be hard to get engagement from your followers because they may feel like you're spamming them. This can lead to a decrease in followers and potential customers.
#3 Content Shock is a term for increased difficulty in retaining and recalling information due to too much information being published. With the rise of mobile devices, it is becoming increasingly difficult to keep up with the amount of content that's being produced and shared on social media. We live in a world where we are bombarded by messages every hour.
#4 A content shock could happen when you realize you're scrolling through your feed without even looking at the posts or when you find yourself opening an article but not reading it because there are so many articles waiting on your list. Although it can happen to anyone, the content shock has become particularly prevalent amongst millennials who have grown up with social media as part of their lives.
#5 When people experience content shock, their tolerance for viewing/reading content shrinks. This often leads to information overload and confusion because there is too much information all at once. With less time spent on each piece of content, the work's quality also suffers.
So, what are the implications of content shock?
Content shock also affects your existing popularity. Let's say you created a great product or created a killer webinar, but a few weeks after its release, thousands of others have produced similar content- some better, some mediocre, and some low-quality. This will affect your content's engagement, and soon people will lose interest in reading the same type of content in different forms. The majority of the content on the web today is of mediocre quality, with even the most popular websites and brands carrying poorly produced content. 
You'll have a hard time creating enough fresh content to stay relevant.
Your content is ineffective or irrelevant
Your content is too small to be useful
Your content is too long and boring
All of those problems are solvable with the right content strategy.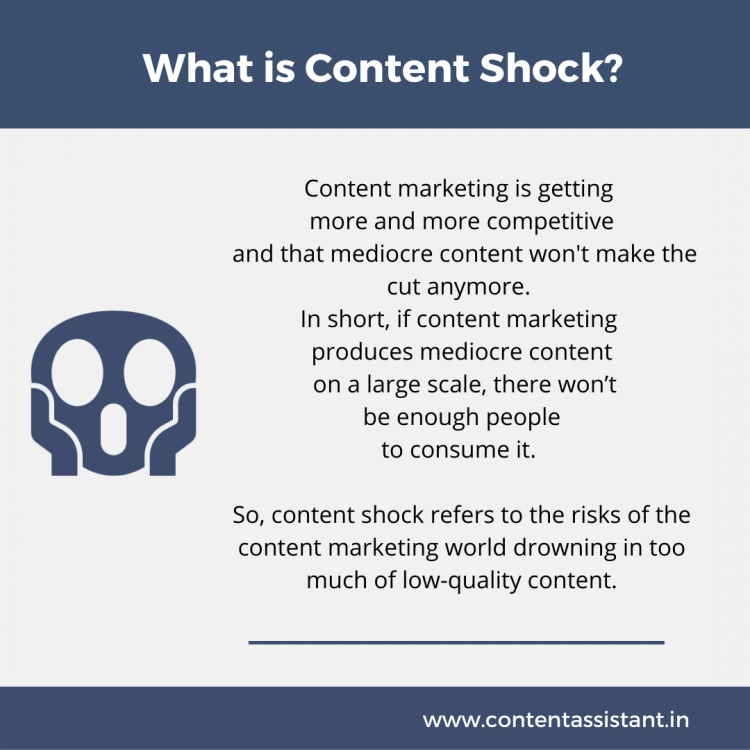 Is Content Shock a Content Marketing Problem?
Content marketing is a strategy used by businesses to attract and retain a customer base. It's the process of producing content that builds trust with customers and creates a connection with them. Brands use content marketing to establish themselves as experts in their field, deliver valuable information, prompt customer action, and promote a product or service.
Content marketing has been a powerful tool for businesses to build their brand and generate leads. So, naturally, content marketing is constantly evolving with the times. It now faces a number of challenges, from increased competition to limited budgets. In fact, many people have given up and are just putting out mediocre content.
Right now, an entire army of content marketers scrambling to compete for attention for their websites or social media pages. Everyone is churning out pages and pages of articles at the same time. But mostly, the content is of poor quality. Hubspot cites Marketing influencer Mark Schaefer who said that owing to content shock, content marketing may not be a sustainable strategy for every business. You know that if you want to succeed in any area of life, being good isn't good enough.
What are the Best Ways to Mitigate Content Shock?
We all want to have our content read by as many people as possible. But how do we make sure our content is engaging? Content marketing has become increasingly important in today's world of digital marketing. Companies rely more on content than ever to stand out and get noticed. With the advent of paid social media ads, content is now more competitive than ever. As a result, companies need to step up their game with better quality content that sets them apart from the competition. 
There are ways to manage the overload of content to mitigate the content shock:
Don't post content that doesn't give the customers value or if there's nothing new.
Prove you can produce good content by acting on feedback from your past efforts. 
Do small incremental changes to your content over time.
The point is to grow your audience with quality content and keep it going.
Minimize your production of low-quality content and increase your conversion rates.
Content Delivery and Mixing Quality metrics like time on site and bounce rate are better measures of how well your content gets consumed than just looking at the number of views.
Composition and structure, the way your content looks and works, is also a factor. Consider ways to optimize your structure. 
Consider what ideas you can try that haven't been done before.
Use modern content writing tools to create standard content with minimum effort.
Make sure it is free from errors and easy to understand for readers outside of your niche. 
The internet is a crazy place. There's a lot of noise on the web, and it can be hard to break through the clutter. You have to be great! It takes time and effort to create really valuable and engaging content.
Conclusion:
Content marketing has always had its strengths as well as its weaknesses. That makes it a very powerful and versatile tool. It isn't going away anytime soon. Content shock is a big problem for content marketers, but it's not impossible to overcome. So, how do you stay relevant as a content marketer in an era of content saturation? The only answer is to create high-quality content that is original in value and helps the audience it is intended for. Staying competitive can be tough in our fast-paced world, where we are constantly bombarded with new information. It's not enough to simply provide your industry knowledge anymore- you need content that distinguishes you from other businesses and captures your audience's attention.
Author Bio:
Rakhi Bhojwani is a freelance content contributor at Content Assistant. She has been creating quality content for the last six years and has helped 100+ businesses to grow and get a digital presence. With the vision of bringing scattered content creators under a single digital roof, she started Weink. Weink is helping multiple brands to hold a digital presence through content. In her words, "Content is Oxygen, get it fast to survive the digital era".