When the content writers develop and distribute relevant and useful content – blogs, articles, white papers, emails, social media captions to their target audience, it is termed content marketing. When content marketing is done aptly, it conveys expertise and makes people feel before selling that the company values all their customers.
Content marketing provides a competitive advantage against all the odds. However, what if there are companies out there that can spend more money than you and unleash more business with a huge investment in content marketing? Can deep pockets overshadow your content marketing efforts? Let us find an answer to this question.
How Does Content Marketing Work?
You must be wondering as to when and how you should use content marketing for your business. Well, content marketing can be used when you want to attract leads or launch a new product or service for your company, or you want to increase your sales and be in the limelight by staying way ahead of your competitors.
Content marketing should be used cautiously and effectively at each stage of the sales cycle. The strategies should be such that they portray the product/service right from the awareness stage to the purchase stage.
Top Types of Effective Content Marketing Forms that Considerable Amount of Require Resources and Investment
There are many types of content marketing that businesses use to earn their brand name. However, the below explained are the most common ones and require a lot of investment owing to content and graphics creation, and distribution.
Social Media Content Marketing
There are billions of people throughout the world using social media. Thus, it is pretty easy to understand why all businesses want to invest in digital marketing. Facebook, Instagram, Twitter, YouTube, and LinkedIn are the highest used social media platforms. You can work and upload the content created on all these platforms to reach the targeted audience quickly. For example, social media content marketing can be through carousals, live videos, reels, pre-recorded videos, stories, and so on.
Infographic Content Marketing
Infographics can clearly and effectively display your company's content, information, and data in an understandable and graphic format. When the business is trying to demonstrate educational or complex topics, infographic content marketing is the best option to let the audience understand the concept in depth.
Podcast Content Marketing
Podcasts add a lot of creativity to your content marketing game as they can be about any random topic. Moreover, it would help if you also considered other factors such as the cadence of episodes, who's on the podcast, where you advertise the podcast, and how long the episodes would be.
Video Content Marketing
Paid Video marketing can help the business in boosting conversions, improve ROI in the near future, and help you build relationships with your targeted audience. You may choose to share your video content on different social media platforms, landing pages, or even on a co-marketers website.
Paid Ad Content Marketing
Paid ads content marketing is very beneficial for businesses because it can help you reach a broad audience in a short span and allow you to position yourself ahead of the competitors. Your ads can be seen on all of the websites where you indeed want them to be seen. Paid ads are, however, more advantageous if associated with inbound marketing. Paid ads can work the best on all social media platforms, banners, and sponsored content.
What Happens When Businesses Spend Huge On Content Marketing

?

Content marketing, like any other marketing gig, requires investment. Creation of content will require businesses to hire high-quality and experienced content writers, creation of eye-catching graphics will require businesses to employ graphic designers; to promote and distribute the created content businesses need the expertise of content marketers, social media managers, etc.

High-speed websites, unique content creation by hiring highly paid industry experts, multi-channel ads, and eye-catching designs, etc. require a lot of money.

Companies that spend money on their strategic content marketing efforts will not regret their decisions. Whether you own a small-scale business or a large enterprise, content marketing can help you in growing your business to new heights. So, it would be best if you weren't afraid of spending money on your own business. Efficiently managing the content marketing strategies can reap better benefits for the business and get the most out of it in the long term.

A survey by Content Marketing Institute reveals that the most successful companies spend more than 40% of their budget on content marketing.

Content is also equally important for content marketing. What if the website is very interactive, but the content is not up to the mark? So, to win the content marketing game, you need to invest in high-quality content creation too. However, if the business is on a smaller scale or a startup, then focusing only on content for the initial stage also works. For example, Hubspot was not even a famous name a few years back. All that they did was portray the best content on their website. But now, they are a deep pocket. So, small businesses can start with strong content and then focus on paid content marketing once they have started establishing their name.

Content Assistant surveyed content marketers, content writers, digital marketers to understand their viewpoint on the relationship between content marketing spending and its effect on success in marketing.

87% of queried respondents voted that in the long-term deep pockets win the content marketing game.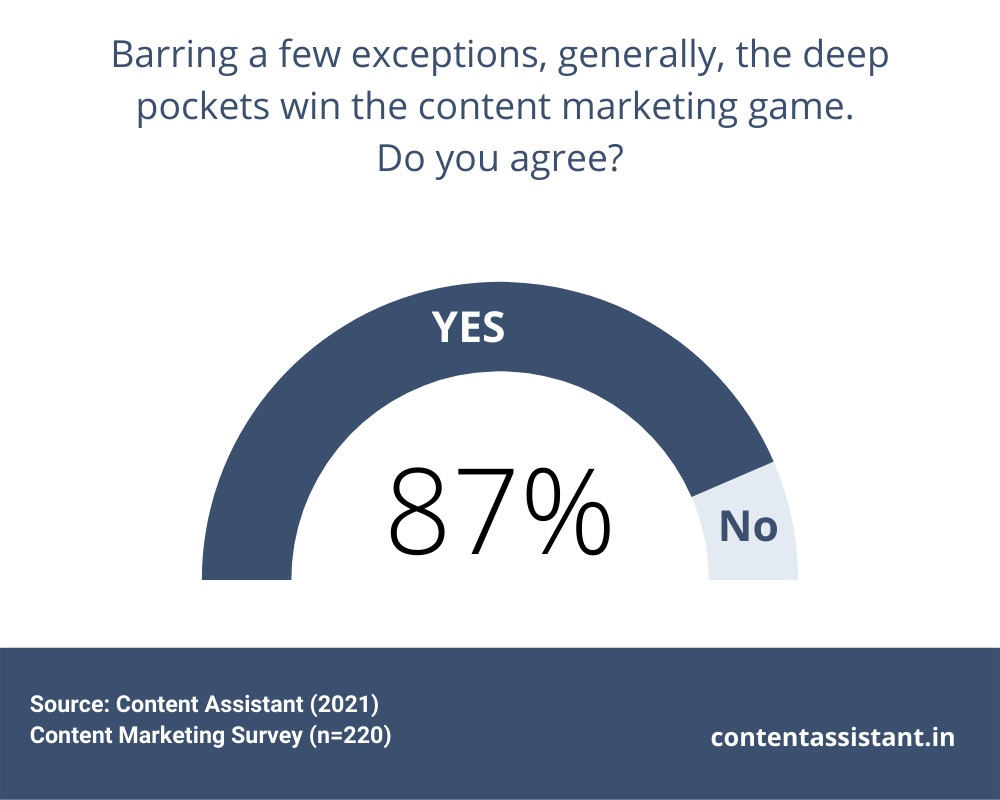 Deep pockets have always yielded better results and have won the content marketing game. On the other hand, the ones with minimal budgets have lagged in the race and are not carrying a very strong image when it comes to consumers' mindset while buying products.
F

inal Thoughts:

In a nutshell, generally, the companies that spend more on content marketing overshadow the ones with minimal budgets. The unique content creation through highly paid experts, multi-channel ads, social media campaigns, and everything that is used for successful content marketing indeed requires a lot of money. The ones with minimal budgets take comparatively more time to leave a mark in the industry. Successful businesses should thank the experts who plan the paid content marketing strategies.

You can take help from the content marketing experts for creating a detailed content marketing campaign for your business.

Author:

Aneri Sheth is a freelance content writer who helps businesses achieve their content marketing goals by creating top-notch content that has a high rate of conversion. She believes that there is nothing more satisfying than seeing her clients thrive with their loyal customer base.