Do you question yourself often and feel;
"Ranking on Google is a distant dream"?
"Will it take forever to boost organic traffic on my website?
"Or there is no accomplishment without spending a bomb for the trending keywords"?
"Or there is no competition and only a winner when it comes to search engine marketing"?
And whatnot!
If you said' yes' to any of the statements above, it's time to burst some bubbles then!
First, sure it will take time, sweat, and tolerance in abundance to grow your website's visibility organically.
Second, you might have to compete with several other businesses and brands that pursue organic traffic goals.
Third and the most vital, growing your website organically, won't come easy and early. But it isn't unachievable!
Now there are only two ways to rank your page high on the Google search engines for fetching both the organic traffic and the paid traffic, and those are:
Search Engine Marketing (SEM)-Inorganic/paid medium.
Search Engine Optimisation (SEO)-Organic/free medium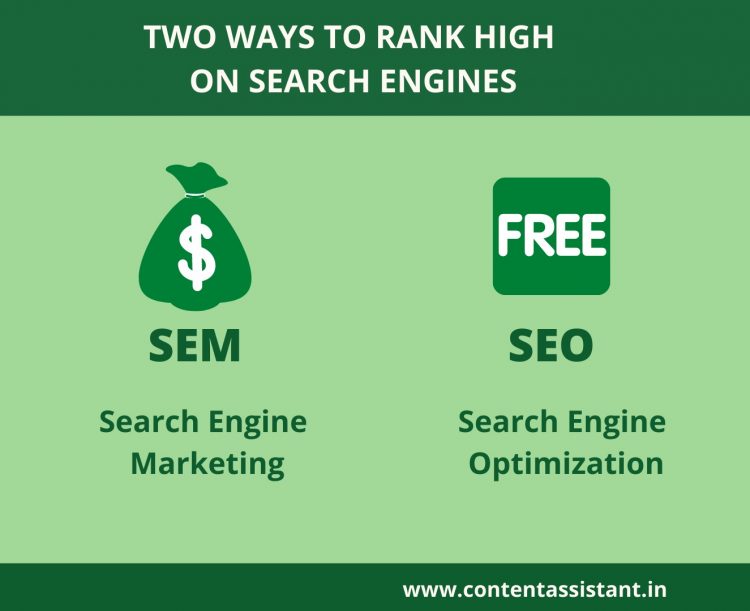 What is Search Engine Marketing (SEM)?
In this day and age, where everyone is hooked on their small screens, hoarding on the fast-paced internet, establishing an online presence is a must for a business to grow substantially.
Digital marketing is, therefore, considered an asset for an organization seeking a global presence. It focuses on creating online brand visibility by ranking the website at the highest in prominent search engines like Google and Bing, among others.
Search engine marketing or SEM is a branch of digital marketing that focuses on bringing maximum traffic to a website by paying the search engines such as Google or Bing to show advertisements during a relevant search query. Though it is not organic traffic it enhances the visibility of a website. There is more to SEM:
How does SEM work?
To achieve higher ranking and traffic from the relevant audience, the SEM uses paid advertisements. It means the company pays a certain amount to the search engines to rank its website at the top.
SEM also includes pay per click (PPC) online marketing strategy. A PPC in simple terms is where the advertisers (that is, the company) pays the search engine a particular amount whenever someone uses the link to visit their website. The advertisers rely on keywords to bid an ad that can be placed as high in a search engine's sponsored links.
Keywords are words or phrases that users type in the search bar to look out for a product or service on a search engine page. These give a broad idea about the preferences of the intended crowd. The advertisers then make the best use of keywords to make sure their company stays at the highest rank on the search page.
The SEM process triggers many algorithms. The effectiveness of SEM is high since the search engine algorithm works in such a way that search engines place the adverts only when there is a query related to the product. It ensures that the adverts reach the right audience who is ready to make instant purchases or are willing to know more about that product.
SEM strategy thus converts the traffic into loyal customers that boost the business as a whole. Some of the popular paid platforms which are loved by search marketers include Google Ad words, Microsoft advertisements, and Yahoo search ads. There are also options for PPC advertising on different social networks such as Facebook, YouTube, Pinterest, etc.
Difference between SEM and SEO:
SEM and SEO have the same goals to improve the rankings and boost website traffic to increase sales. They are, however, completely different in their approach to reach the set goals.
SEO technique increases the website ranking and organic traffic without any monetary investments. Here keywords are used judiciously, keeping in mind the user preference. It can be through the SEO based website content, articles, or blogs.
SEM, on the other hand, requires investments both in terms of money and skills. Here the SEO is used along with paid marketing tactics, the most popular being the PPC, as already mentioned. It uses the best SEO strategy and places it on adverts so that it likely becomes the first thing a user notices.
What is Search Engine Optimization (SEO)?
Search Engine Optimization (SEO) is terrific! Do you know why? Because it is free traffic! It lands the community to your page without having to spend even a penny! And the aftermaths are long-lasting and meant to stay! Now you must be knowing Google follows several additional factors to rank your page up on the search engines. But the secret sauce is that the essential elements continue to remain the same. And we are going to catch a glimpse of precisely those brownie points, that matter more than anything else to Google when it comes to organic traffic and SEO.
Here are the ways to increase organic traffic to your website using white hat SEO techniques, step by step:-
1. On-Page SEO:
It is what you execute while you are on your website. The complete on-page SEO for increasing organic traffic is about delivering an authentic quality and quantity for your web page. It comprises the right blend of keyword density, impressive headline, to the point meta description, related URLs, and the length of the text on the web. The absorption of all these elements carves a competent package to help Google find and rank your site on the search engine results page (SERP).
Let us look at some On-Page SEO strategies:-
1. Research the Competitors Content, Keywords, and Demographics for achieving organic traffic goals:
Recall how diligently you spend hours on the keywords you need to use in your content? Well, that's not enough! You have to spend equivalent or extra time researching what keywords your competitors are using as well. Check if the traffic to your opponents' website is mostly organic or paid? Even if the keywords are purchased, that doesn't mean you don't have a chance. Don't solely rely on one keyword, but also use the keywords with a similar intent.
Use a keyword research tool for competitor analysis. With this, pay attention to the demographics and the buyer persona of your target audience. Spend a severe amount of analysis on- which part of the country your audience belongs to, the age group they plunge into, the income levels, etc. Examine, implement, and attempt to adopt a hit and trial method to see what is working for your website and what's not.
Seize inspiration from the competitions. Google Analytics is an exceptional free SEO tool to check the insights of what your adversaries are doing differently as compared to you. It will help you create your strategy. However, if you are more serious about your SEO and want your business to grow exponentially, you should consider going for a paid tool like Ahrefs or Semrush, which comes with an Ahrefs seven-day trial for $7 and a SEMrush 30-day free trial, respectively.
2. Provide Quality Content and Information for Free:
'Content' is the crux of any business. On the other hand, 'Quality Content' is defined as when the material you post ranks on Google's search engine results page, traffic flows in, people spend more time on your website and, in the end, leads to a definite call to action (CTA). The content should be able to answer most of the questions for what the user comes looking for when searching for a particular keyword or a combination of it.
Use content writing tools for creating the best content that ranks on all fronts. You should know that Google's algorithm has become smarter than ever, so instead of tapping only the exact text, it looks for the similarity in intent as well. The intent of the word is the primary text, which conveys a similar meaning or purpose as that of the keyword. It is also essential to keep in mind to avoid "stuffing" your write-up with an extra dose of the text. Instead, you should use the keywords wisely and allow them to come naturally to your article. It will help you boost your conversion rate.
3. Ensure your Website loads Quickly:
Responsiveness also plays a critical role when it comes to increasing organic traffic! With increasing competition among the businesses, and decreasing human attention span, things have become critical! People don't think twice before switching to the next best thing. The same protocol applies to your website's loading speed as well. If your website fails to load within two seconds of the user's click, they will quit the site and gape for an alternative search result! The difference of 2 seconds makes a potential customer leave your site!
2. Off-page SEO:
It is something that you achieve by staying away from your website. However, it generates near to 75% of the organic success rate as compared to on-page optimization. Thus it becomes quintessential to pay equal attention when you are off the page as well. The significant elements that make up for an excellent off-page strategy are quality backlinks, anchor texts, link juice, and relevancy.
The exclusive benefit of this strategy is that it qualifies you to explore, build relationships, and market your content enormously without any restrictions. You get a lot more control when it's time to implement off-page SEO tactics.
1. Build Quality Backlinks
The best thing you can execute as a content creator is to externally link to a web page or site in your article. It gives you credibility and helps your audience gain trust in your content. The idea is to strike the right mix of originality and give due recognition and credit to someone else's work through your post. It is a win-win situation for both parties.
The same can happen for you in the coming years if you put a well-written article on your webpage. How? Supposedly, there is a budding entity that recently started writing blogs, which relates to your niche. If your piece is highly SEO friendly, they may put your link and give you the appreciation on their post, just like you do now! It's a two-way street and a fair deal for both enterprises to prosper successfully.
But hold that thought! It doesn't imply that you go and begin sharing the links of your articles to every second person and start spamming them to link your sites. It doesn't happen that way. Because if you are smart, Google is smarter!
The backlinks highly depend on the authority, consistency, and reputation of the label that links to your site. It has higher chance for your blog to rank on the first page only if the backlinks come from a well-known entity. But it never hurts to take the baby steps in the initial phase, right?
2. Start Writing Guest Blogs to Entice Organic Traffic
It is a great way to entice free organic traffic to your business. What you need to do is write guest blogs as incredibly as you would write for one of your blogs or websites. Remember, when you are trying hard to grow organically, you might be required to deliver free quality content. The benefits will last longer in a way where more people would start getting to know you as a brand, and your entity will gain goodwill, mentions, word of mouth, and even popularity.
3. Social Media Campaigns to gain strategic traffic
Promoting your website links on social media platforms gets you a vast amount of organic traffic. The reason being, you share it among the ones who you already know. What happens, in that case, is, the audience is more likely to check out the links you provide. And if they happen to love what you've written, they share your link further with their extended community, and that; works as a cherry on top for you! And in no time, it propels more folks to land on your page, which instantly grows the website's visibility.
The Bottom Line
The above mentioned are the ways that prove to be effective white-hat SEO techniques that work wonders when trying to grow all by yourself. However, Google "does not" appreciate any black-hat SEO tactics that involve going against search engine guidelines.
Keyword stuffing, poor quality content, paid links, blog comment spam, private blog networks, and many more unethical ways to fool Google can cost you in the long run! It may fetch you great results in the beginning, but sooner or later, Google will find out and will straightway penalize your website. Google Panda or Google Penguin Algorithms can easily detect any such highways. So rather than depending on the quickies of the black hat SEO technique, always take the safer route.
Your toil and regularity will determine the success of your vision. In the end, it's not a race but a Marathon, and you have to be consistent.
Author Bio
Supratika Nandi is a freelance content contributor at Content Assistant. She is a content writer whose passion transformed into a profession a year back. She has an exceptional knowledge of modern content writing tools and strategies. She is a voracious reader and loves to watch movies in her free time.